HOME : : ABOUT : : MUSIC : : MAILING LIST : : CONTACT
Cleopatra REcords release "Sick for Songs a Season Eats Remixes" includes The (W)hole 
The (W)hole featured Textbeak with Lure of the Unknown, Robert Disaro, and Jeff Chenault.  MORGVE re-imagines The (W)hole along with a huge list of other great remixes including remixes by Mark Stewart, Frank Weyzig, Adrian Smith of Click Click, Satanic Hispanic, Mater Suspiria Vision, Red Pyramid, KPT, Jeremiah Meece, Alka, Antoni Maiovvi, Markos Grave, and Hex Wolves.
https://textbeak.bandcamp.com/album/sick-for-songs-a-season-eats-remixes
TEXTBEAK JOINS SEAN HØLT AND LURE OF THE UNKNOWN TO FORM A NEW PROJECT CALLED VERNACHTEN

Three unique visions converge.
Our first track is 'Dreaming.' You can hear it towards the end of this exclusive mix from Textbeak for Osaka, Japan's (K)ollaps.

https://soundcloud.com/user-176685717/kollaps-episode-14?
I chose a poem from Robert E. Howard (creator of Conan and other fine fantasy stories) to apply vocal and vocal manipulations to.
Enjoy! There will be more! Imagine a great Norse horn blasting through a wasteland with a cybernetic horizon.
MASTIC WOODS FEATURES SEAN HØLT AND LURE OF THE UNKNOWN

For your already hesitant dusk walk because YOU can't resist going into the unknown!
Sean Hølt invited me to collaborate on two tracks ("Rust" and "Soil") that appear on "Mastic Woods" with three additional tracks that Sean worked on. Combining Sean's love of the outdoors with an arsenal of sonic tactics has released over a dozen releases and worked with Black Loom and Black Gallows.

I worked in a number of collaborative efforts in the past with Robert Banks, David Greathouse, Angel Galvan, and others prior to Lure of the Unknown. None of these have come to be released (yet). Working with Textbeak on the (W)hole and with Sean on Mastic Woods really brought back the collaborative vibe.
For Mastic Woods Sean created very interesting and engaging analog tracks. I added a variety of electronics and layered panning effects to complement Sean's work. Instrumental soundscapes to explore to.
LURE OF THE UNKNOWN GUESTS ON ONE TRACK OF TEXTBOOK CLEOPATRA RECORDS DEBUT

Genres mixed & recreated on Textbeak's visionary Sick for Songs a Seasons Eats.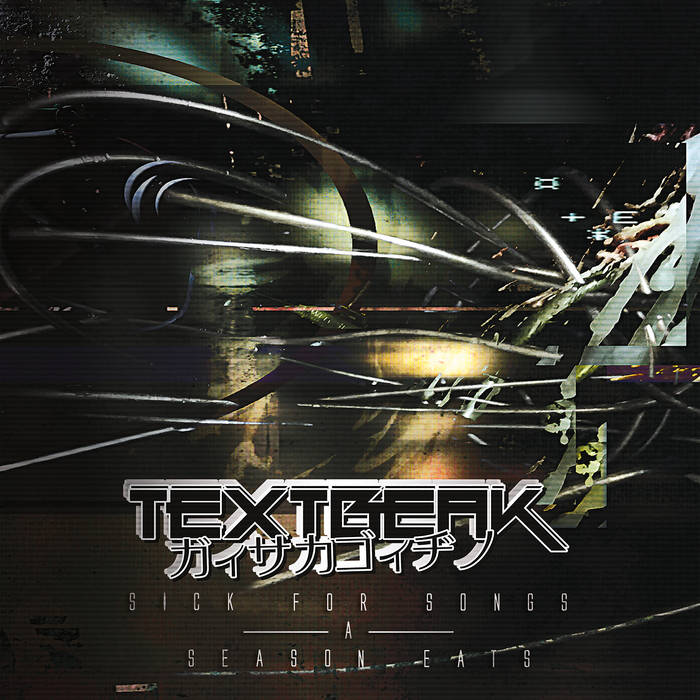 Featuring John Fryer (Producer and Performing on one track), Mark Stewart (The Pop Group and The Maffia), Janine Rainforth (Maximum Joy), Peter Hope (Hoodoo Talk), Bestial Mouths, Yvette Winkler (Vaselyne), Searmanas, Android (Missile Command), Tim Smith (Lestat, UV, Man 009), and others including Lure of the Unknown. Textbeak's release pivots from one genre to the next, oftentimes in the same track.

 I contributed vocals, lyrics, and vocal manipulations and shared those same credits with Robert Disaro while guest Jeff Central (10-Speed Guillotine / Central Inhabitants) added additional music on the track, The (W)hole. Together, we created a dark and wholesomely experimental track that ends the CD as the last track.
DAY OF ENDINGS IS RELEASED BY SILBER MEDIA

An experiment in scores and constrained music.

Brian at Silber Media invited me to contribute to his 5in5 series of releases. 5in5 is 5 tracks in 5 minutes. 5in5 is in every way an example of Constrained Music. Constrained music is a form of music that places some fundamental constraint on form beyond those inherent to the medium. By doing so, the musician is attempting to produce original music within tightly defined boundaries.

I took the idea a little further and added Constrained Writing to the challenge. I decided to make each track title a microstory. That is, a story told in exactly six words. In addition to that, I made each track a score to that microstory. Experience the stories about the end of the universe, the haunting of ghosts, the destruction of life, and where time travel will take you with the sounds that sonically tell each story. 
LURE OF THE UNKNOWN DEBUTS ON HUNGARIAN LABEL FLOPPY KICK COMPILATION SPECIMEN

The origin of a music experimentalist.
Every band has an origin. Lure of the Unknown's starts in Hungary by way of Cleveland, Ohio.  Floppy Kick Records, located in Hungary, contacted me to curate a compilation release of experimental music from Northeast Ohio (where I happen to live).

This release, Specimen featured 15 great projects including Witchbeam, Jeremy Bible, Fascist Insect, glacial23, Holy Kindof, Whorlweaver, Darin Sullivan, Rot Ton Bone, narrowdeep, Man 009, Jason Rodriguez, Cellophane Orchestra, Planet on the Prowl, Violent Apparatus, and the debut of Lure of the Unknown.  My track, Eternal Scream Trapped in a Grain of Sand, is an odd mixture of electronics, noise, and techno music. Odder yet, the release, like the majority of releases on Floppy Kick, Specimen was released on 3.5 floppy diskette.  
The compilation art and liner notes were also created by me. All told, Specimen was a very interesting project to work on and be part of.
---
Texturally dense, the songs sweep the listener up into a surreal world…
BeachSloth Review on Day of Endings.
"…a captivating track by Lure Of The Unknown."
Kai Nobuko on Eternal Scream Trapped in a Grain of Sand
"…creativity pushed to new horizons."
Amazon review of Textbeak's debut Cleopatra release
where Lure of the Unknown is a guest on one track.
HOME : : ABOUT : : MUSIC : :  MAILING LIST : : CONTACT
---
MEMBER: ASCAP, SONGTRUST, DISTROKID
---
DO YOU HAVE FILM IN NEED OF A SCORE, INTERESTED IN INTERVIEWING ME, REVIEWING MY MUSIC, OR DO YOU HAVE AN INTERESTING COMPILATION, CURATION OR CHALLENGE THAT YOU ARE WORKING ON? CONTACT ME AND LET'S TALK!