HOME : : ABOUT : : MUSIC : : MAILING LIST : : CONTACT
RELEASES
DAY OF ENDINGS features motorik/tribal beats and ambient music
Tales of time travel, end of days, supernovaes, and ghosts given more depth with motorik and tribal beats, dark ambiance, processed kalimba's, rain sticks, singing bowls, and voices. A truly unique sonic experiment with electroacoustics, krautrock, and brevity.
Day of Endings is part of Silber Music's 5 in 5 EP series where musicians are challenged to create five songs that, all together, equal five minutes. My 5in5 is called Day of Endings.  I decided to add to the 5in5 challenge by making each track title a micro-story (a story told in six words, no more, no less)
DIGITAL
BANDCAMP : : AMAZON : : ITUNES : : GOOGLE PLAY
---
---
COMPILATIONs
SPECIMEN FEATURes experimental music from Northeast, Ohio.
The Hungarian label, Floppy Kick, invited me to curate a compilation of Cleveland, Ohio area experimental music projects. Specimen was the result. Not only did I get to release a project with really talented performers, Lure of the Unknown makes its first public debut on one track.

Another interesting aspect of this release is the label. Floppy Kick specializes in releasing music on 3.5 floppy diskettes and Specimen is an example of such a release.

My track, "Eternal Scream Trapped in a Grain of Sand", combines various ideas from experimental music, film scores, techno, and noise together to create an odd collage to represent the title. Specimen, the floppy diskette compilation that Eternal Scream was released on is currently sold out.

DIGITAL
BANDCAMP
---
projects
Vernacten
A PROJECT FEATURING LURE OF THE UNKNOWN, Textbeak, and SEan HØLT
Our first track is 'Dreaming.' You can hear it towards the end of this exclusive mix from Textbeak for Osaka, Japan's (K)ollaps.
Guest Appearances
SEAN HØLT & JOESEPH SIMON
MASTIC WOODS features Analog drone and dark Electronics
Sean Hølt released his 13th release, "Mastic Woods" on Bandcamp featuring five tracks, two of which ('Rust' and 'Soil') were created in collaboration with Lure of the Unknown. 
Dark foreboding electronics for your already hesitant dusk walk because YOU can't resist going into the unknown!
Sean has been creating engaging analog drone and mayhem while building his arsenal of music weaponry and audio tactics for many years now. While increasing his solo material, Sean has also been in Black Loom and Black Gallows, signed to Hexx 9. Sean's adventurous outdoors spirit is married to the spirit found in music which I think is inspiring.
Lure of the Unknown appears on track's 2 & 4

SEAN HOLT'S BANDCAMP
---
---
TEXTBEAK
SICK FOR SONGS A SEASONS EATS
FEatures An Multi-Genre Explosion of Post-Everything music.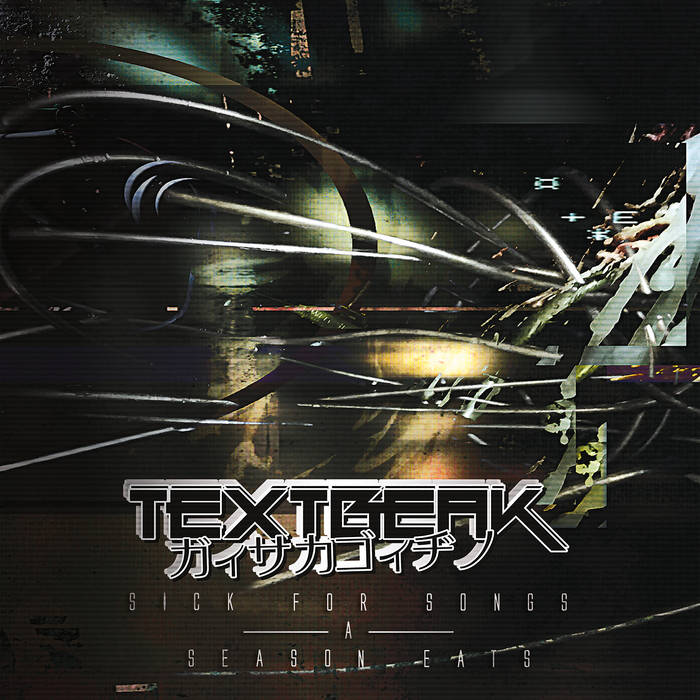 Debut album on Cleopatra Records from visionary producer/DJ Michael Szewczyk. Produced by John Fryer, who also performs on the tracks.

Features a host of like-minded avant-garde musical friends including Mark Stewart (The Pop Group and The Maffia), Janine Rainforth (Maximum Joy), Peter Hope (Hoodoo Talk), Yvette Winkler (Vaselyne), Searmanas, Android (Missile Command), Tim Smith (Lestat), Bestial Mouths and more, including Lure of the Unknown!
Textbeak asked me to contribute to the 14th and final track of his debut release on Cleopatra Records. An honor I readily accepted. I contributed to the track, The (W)hole. I wasn't the only guest on The (W)hole either 🙂 I contributed vocals, lyrics, and vocal manipulations and shared those same credits with Robert Disaro while guest Jeff Central (10-Speed Guillotine / Central Inhabitants) added additional music.
Lure of the Unknown appears on "The (W)hole" on Cleopatra Records, AMAZON or Textbeaks BANDCAMP
---
TEXTBEAK's "SICK FOR SONGS A SEASONS EATS"
Gets A FUll REMIX Album
The remix release features a remix for The (W)hole, a song that Lure of the Unknown contributed to by MORGVE along with many other great remixes. You can purchase the remixes at Cleopatra, Amazon, and Textbeak's Bandcamp.
COMING UP
VERNACTEN
More songs from this special project between Textbeak, myself and Sean Hølt.
DREAMING OF SEEING THE FUTURE BLINDLY: Scores for an Audiobook.
Featuring three short stories (Sight Unseen, Fecal Matters, and Perhaps to Dream written by Joeseph Simon) read by Attrition / Rosetti's Compass guest vocalist and avant-garde singer Tylean while Lure of the Unknown created the scores for each story.
SHORT FILM SCORE
Film name to be announced, Code Name: Frank
I am working on a short film that interestingly takes footage the filmmaker shot in the past. He is updating and reworking it to complete what he started many years ago. I was asked to provide the score. Expect a wide variety of acoustic and electronic instrumentation and experimentation.
HOME : : ABOUT : : MUSIC : : MAILING LIST : : CONTACT
---
MEMBER: ASCAP, SONGTRUST, DISTROKID
---
DO YOU HAVE FILM IN NEED OF A SCORE, INTERESTED IN INTERVIEWING ME, REVIEWING MY MUSIC, OR DO YOU HAVE AN INTERESTING COMPILATION, CURATION OR CHALLENGE THAT YOU ARE WORKING ON? CONTACT ME AND LET'S TALK!